---
The Simple Making of
Stereoscopic Photography
---
Method
A couple of "single use camera" and a craft tape, that's all.
Put the cameras tightly together with tape, as shown below.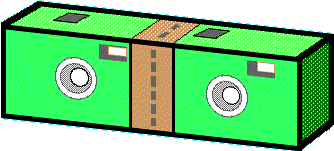 Choose an object, and press two shutters
at the same time,
that's a knack!

If you press each shutter at a different moment, the moving objects are recognized as shifting forward or backward, but don't mind, it is the taste of hand-made.

The printed photos may be too big to see by a parallel view method. In that case, pile up a half of the print.
---
Samples
Push the image and get more big images placed to see by a cross view or a parallel view method.
All the sample photos were taken as described above.


Nigatsu-do, Nara


Big stone munument of ancient Asuka, Nara


Yahiko-station, Niigata


Kegon fall in winter, Nikko, Tochigi


Konpira shrine, Kagawa
and
Votive picture tablets of Konpira shrine, Kagawa
---